LABORATORY SERVICES
Jarrow Industries' analytical laboratories provide one-stop comprehensive analysis and testing services of dietary supplements. We analyze raw materials (both active ingredients and excipients) for identity, chemical, and microbiological, heavy metals, organoleptic and other physical properties. Finished products are also tested in a similar manner to ensure the quality of the products. Our laboratories are equipped with state-of-the-art analytical instruments such as:
[one_fourth valign="top" animation="none"]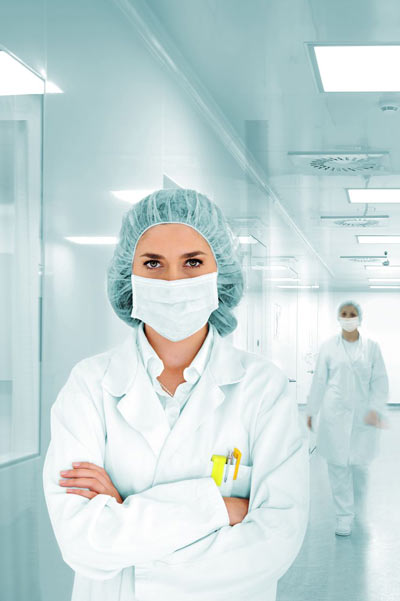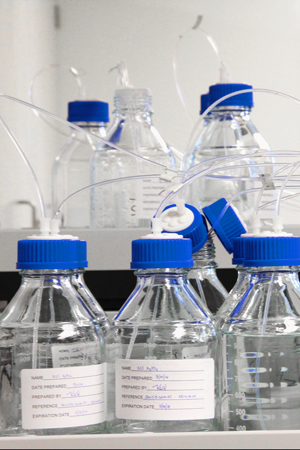 [/one_fourth]
[three_fourth_last class="bottomred" valign="top" animation="none"]
ICP/MS, THERMO X SERIES 2 ICP-MS WITH CETAC ASX-520 AUTOSAMPLER
Top-of-the-line ICP/MS, capable of detecting and quantifying elements in ppb (parts per billion) and even ppt (parts per trillion) levels in some elements, this instrument is an invaluable piece in detecting heavy metal contamination.
DIONEX ULTIMATE 3000 RS, WITH 10 COLUMNS SWITCHING CAPABILITY
Excellent separations combined with short analytical times, this extraordinary UHPLC instrument provide reliable and consistent performance. With the ability of housing up to 10 columns simultaneously, method development and switching between different methods can be performed efficiently without stopping the instrument.
AGILENT 1100 HPLC SYSTEM
A true "workhorse," this popular HPLC instrument provides robust and reliable performance for routine analytical work.
THERMO ISQ, SINGLE QUADRUPOLE GC-MS
This versatile instrument features both FID and MS detectors, capable of identifying and quantifying a wide range of chemicals from volatile active ingredients to solvent contaminants.
LABORATORY THERMO-NICOLET 6700 FTIR/FTNIR
Thermo-Nicolet 6700 can perform both as an FTIR (mid-range IR) and FTNIR (near-IR). It is a valuable identification tool for raw materials and blends. It can also be used for final products and quantifications.
[/three_fourth_last]
[section class="bottomred" background_repeat="repeat" background_position="center top" background_attachment="static" background_scroll="none"]
ANALYTICAL SERVICES
Utilizing state-of-the-art equipment, our laboratories provide a variety of analysis of raw materials and finished goods such as:
| | |
| --- | --- |
| Heavy metal analyses | pH |
| Dietary Minerals | Organoleptic |
| Identification | Density |
| Various Assays (active ingredients potency) | Disintegration |
| Loss-on-drying | Dissolution |
| Moisture Content by Karl Fischer | Particle Size |
| Water Activity | |
MICROBIOLOGICAL TESTING
Jarrow Industries' laboratories also provide a variety of microbiological testing including:
E. coli/Coliform Yeast and Mold Salmonella Viable Cell Count Total Aerobics (Probiotics) Environmental Monitoring Swabs Staphylococcus aureus
| | |
| --- | --- |
| E. coli/Coliform | Yeast and Mold |
| Salmonella | Viable Cell Count (Probiotics) |
| Total Aerobics | Staphylococcus aureus |
| Environmental Monitoring Swabs | |
All laboratory analytical methods follow corresponding USP Monographs, FDA BAM, and/or AOAC and are fully-validated or verified. Only certified reference standards and materials are used.
[/section]
[space value="50″]
[/space]
[section class="bottomred" background_repeat="repeat" background_position="center top" background_attachment="static" background_scroll="none"]
CONSULTING AND OTHER SERVICES
We offer our customers and potential customers expert advice on regulatory requirements for testing of nutraceutical products. We assist in choosing the best necessary tests and in the interpretation of test results. We update and increase the list of validated tests regularly and can develop and validate custom analytical methods for our customers' needs.
[/section]
[section background_repeat="repeat" background_position="center top" background_attachment="static" background_scroll="none"]
[one_third valign="top" animation="none"]
[box style="solid"]
[button class="buttonblue" linking="default" link="http://jarrowindustries.com/pharmaceutical-manufacturing-process-capabilities/" align="center" size="medium" type="wide" style="" icon="" title=""]MANUFACTURING SERVICES[/button]
[/box]
[/one_third]
[one_third valign="top" animation="none"]
[box style="simple"]
[button class="buttonyellow" linking="default" link="http://jarrowindustries.com/pharmaceutical-packaging-services-powder-capsules-blister/" align="center" size="medium" type="wide" style="" icon="" text_color="#ffffff"]PACKAGING
SERVICES[/button]
[/box]
[/one_third]
[one_third_last valign="top" animation="none"]
[box style="simple"]
[button class="buttonred" linking="default" link="http://jarrowindustries.com/pharmaceutical-laboratory-services/" align="center" size="medium" type="wide" style="" icon="" text_color="#ffffff"]COMPREHENSIVE
IN-HOUSE LAB[/button]
[/box]
[/one_third_last]
[/section]
[divider_top]
[/divider_top]